Engineer Your Future with Us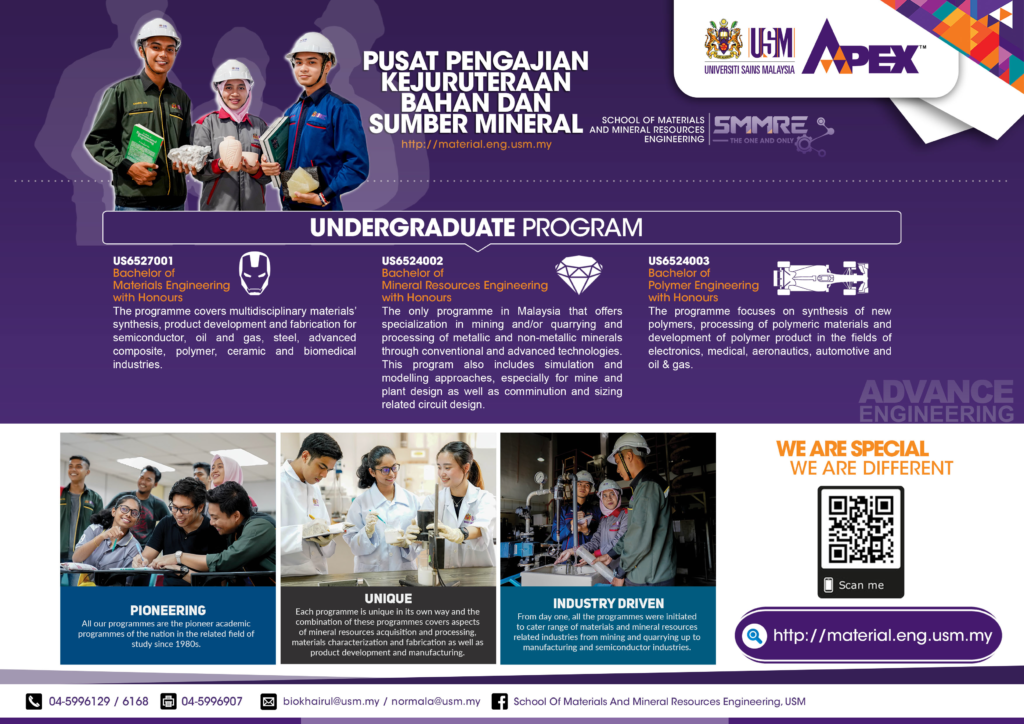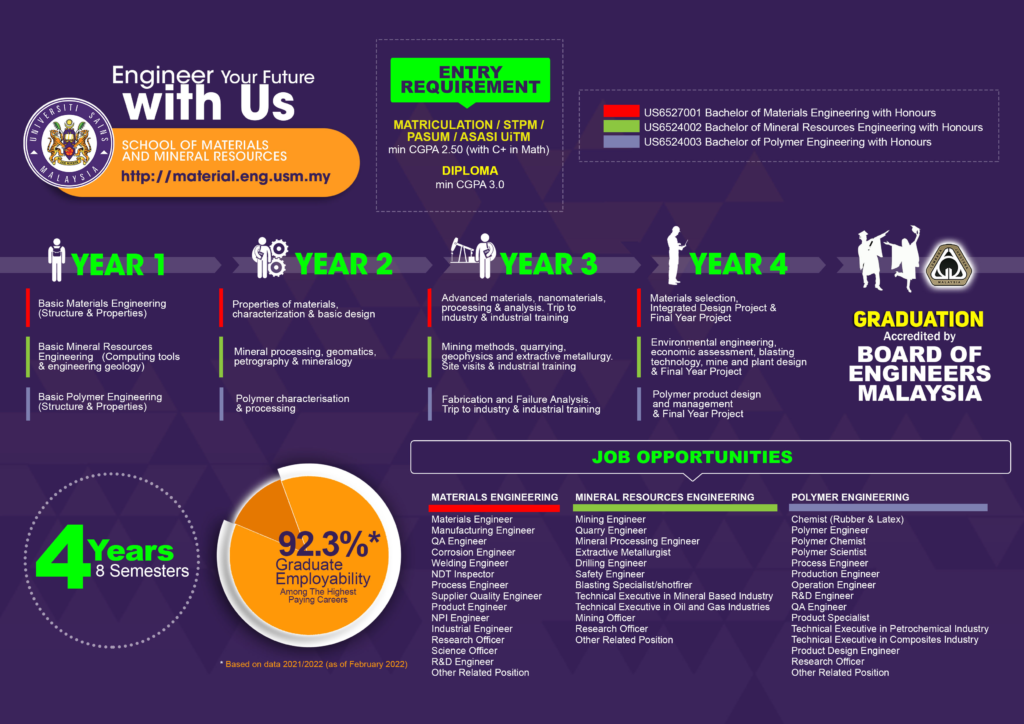 US6527001 – Bachelor of Materials Engineering with Honours
The programme covers multidisciplinary materials' synthesis, product development and fabrication for semiconductor, oil and gas, steel, advanced composite, polymer, ceramic and biomedical industries.
US6524002 – Bachelor of Mineral Resources Engineering with Honours
The only programme in Malaysia that offers specialization in mining and/or quarrying and processing of metallic and non-metallic minerals through conventional and advanced technologies. This program also includes simulation and modelling approaches, especially for mine and plant design as well as comminution and sizing related circuit design.
US6524003 – Bachelor of Polymer Engineering with Honours
The programme focuses on synthesis of new polymers, processing of polymeric materials and development of polymer product in the fields of electronics, medical, aeronautics, automotive and oil & gas.
Materials Eng : Basic Materials Engineering (Structure & Properties)
Mineral Resources Eng : Basic Mineral Resources Engineering (Computing tools & engineering geology)
Polymer Eng : Basic Polymer Engineering (Structure & Properties)
Materials Eng : Properties of materials, characterization & basic design
Mineral Resources Eng : Mineral processing, geomatics, petrography & mineralogy
Polymer Eng : Polymer characterisation & processing
Materials Eng : Advanced materials, nanomaterials, processing & analysis. Trip to industry & industrial training
Mineral Resources Eng : Mining methods, quarrying, geophysics and extractive metallurgy. Site visits & industrial training
Polymer Eng : Fabrication and Failure Analysis. Trip to industry & industrial training
Materials Eng : Materials selection, Integrated Design Project & Final Year Project
Mineral Resources Eng : Environmental engineering, economic assessment, blasting technology, mine and plant design & Final Year Project Polymer product design and management & Final Year Project
Polymer Eng : Polymer product design and management & Final Year Project
Job Opportunities
Materials Engineering
Materials Engineer
Manufacturing Engineer
QA Engineer
Corrosion Engineer
Welding Engineer
NDT Inspector
Process Engineer
Supplier Quality Engineer
Product Engineer
NPI Engineer
Industrial Engineer
Research Officer
Science Officer
R&D Engineer
Mineral Resources Engineering
Mining Engineer
Quarry Engineer
Mineral Processing Engineer
Extractive Metallurgist
Drilling Engineer
Safety Engineer
Blasting Specialist/shotfirer
Technical Executive in Mineral Based Industry
Technical Executive in Oil and Gas Industries
Mining Officer
Research Officer
(Government Agencies)
Polymer Engineering
Chemist (Rubber & Latex)
Polymer Engineer
Polymer Chemist
Polymer Scientist
Process Engineer
Production Engineer
Operation Engineer
R&D Engineer
QA Engineer
Product Specialist
Technical Executive in Petrochemical Industry
Technical Executive in Composites Industry
Product Design Engineer
Research Officer at Federal and State Government Agencies